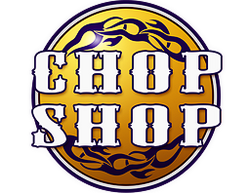 The Chop Shop Collection is an exclusive weapon collection introduced as part of Operation Bloodhound.
The availability of skins from the collection is currently restricted to operation pass users from the current operation.
SCAR-20 | Army Sheen

CZ75-Auto | Army Sheen

M249 | Impact Drill

MAG-7 | Seabird

Desert Eagle | Night

Galil AR | Urban Rubble

USP-S | Para Green

MAC-10 | Fade

P250 | Whiteout

MP7 | Full Stop

Five-SeveN | Nitro

CZ75-Auto | Emerald

SG 553 | Bulldozer

Dual Berettas | Duelist

Glock-18 | Twilight Galaxy

M4A1-S | Hot Rod
The MAG-7 Seabird skin's flavor text is "Mine." This is a reference to a scene in the film Finding Nemo.[1]
References
↑ Finding Nemo- MINE (full version HQ) on YouTube.com