The Chroma Case is a weapon case consisting of community weapons released as part of the January 8, 2015 update. It requires a Chroma Case Key to be opened and cannot be opened with a standard CS:GO Case Key.
The Chroma Case also has six exclusive community created knife finishes: Damascus Steel, Doppler, Marble Fade, Tiger Tooth, Rust Coat, and Ultraviolet. Since the finishes are exclusive to the case, they cannot be obtained on the Butterfly Knife, Shadow Daggers, Falchion Knife, Bowie Knife and the Huntsman Knife.
Contents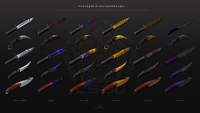 Update History
Added flavor text to Chroma Case weapons.
Ad blocker interference detected!
Wikia is a free-to-use site that makes money from advertising. We have a modified experience for viewers using ad blockers

Wikia is not accessible if you've made further modifications. Remove the custom ad blocker rule(s) and the page will load as expected.