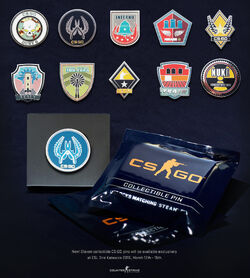 Collectable Pins are physical and virtual collectible items available in Counter-Strike: Global Offensive.
Overview
Collectable Pins were added as part of the February 26, 2015 update and are available to purchase at Valve-sponsored competitions such as ESL One or DreamHack tournaments or Valve-sponsored promotional events. Attendees of such events can purchase a physical collectible pin package.[1] Much like Global Offensive weapon cases, the package contains a single randomly selected pin. The package also contains a redemption code redeemable for a virtual pin capable of being displayed on the user's in-game profile much like coins. The virtual pins appear embossed to mimic their real-life counterparts.
After May 31, 2016 update, player can buy "Collectible Pins series 1 capsule" when is available as offer that can be purchased in-game.
also players who purchase real counter-part(s) from WeLoveFine.com gets unique Steam key to activate on steam, allow to get collectible pin(s) in Genuine quality of purchased collectible pin.
List
Series 1
Nuke

Train

Guardian

Tactics

Italy

Militia

Victory

Mirage

Inferno

Dust II

Guardian Elite
Series 2
Phoenix Pin

Guardian 2 Pin

Bravo Pin

Baggage Pin

Tactics

Overpass Pin

Office Pin

Cobblestone Pin

Cache Pin

Bloodhound Pin

Valeria Phoenix Pin

(

Valeria Pin

)

Chroma Pin
Series 3
Guardian 3 Pin

Canals Pin

Welcome to the Clutch Pin

Death Sentence Pin

Inferno 2 Pin

Wildfire Pin

Easy Peasy Pin

Aces High Pin

Hydra Pin

Howl Pin

Brigadier General Pin
Trivia
During the ESL One Katowice 2015 tournament, noted caster Anders Blume was seen wearing all of the CS:GO pins, and remarked, "It has become an addiction at this point." [2]
See also
References
↑ Katowice 2015: Linking with Twitch on Counter-Strike.net
Ad blocker interference detected!
Wikia is a free-to-use site that makes money from advertising. We have a modified experience for viewers using ad blockers

Wikia is not accessible if you've made further modifications. Remove the custom ad blocker rule(s) and the page will load as expected.