Games
Content
Featured Map
Rails

Detroit is not what it used to be... gangs have established all over the city and are using old facilities to hide contraband goods and drugs without police intervention.
Featured Equipment
Butterfly Knife

This is a custom-designed balisong, commonly known as a butterfly knife. The defining characteristic of this weapon is the fan-like opening of a freely pivoting blade, allowing rapid deployment or concealment. As a result, butterfly knives are outlawed in many countries.
Latest Update
| | | | |
| --- | --- | --- | --- |
| September 23, 2016 | February 4, 2016 | August 8, 2013 | August 8, 2013 |
Helping out
Not sure where to start?
Find out more about the Counter-Strike Wiki on the about page.
If you are new to wikis, check out Wikia Help for beginner tutorials and more.
Not sure how to help?
Top 10 contributors

Loading...

Admins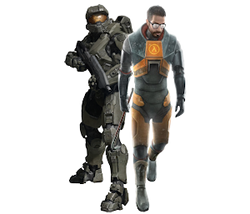 Community
News
You can now follow the Wiki on Facebook and Steam!
Counter-Strike updates and important Wiki changes will be announced on social media too, so don't hesitate to like our Facebook page and join our Steam group.

Of course, these new places are also open to discussions and exchange between users, but as…

Read more >

The purpose of the Counter-Strike Wiki is to give the Counter-Strike community a place to view and contribute information about the series. The community as a whole is responsible for ensuring the information is as accurate as it is informative. Our job as admins is to make sure the information follow…

Read more >

As we are pulling together our Wiki Policies, we are always on the lookout for solutions to make things simple for members of the community to add and edit content on this wiki. One of the things we noticed as we continue to edit content is the inconsistency of rarity colors. Generally, it is the r…

Read more >
Mission
The primary mission of the Counter-Strike Wiki is to collect information that will be useful to people who are new to the Counter-Strike series and even those who are familiar with the games. This wiki serves as a network of user added and editable information for the main games in the series.
About
The Counter-Strike games are popular team-based modifications of Valve's first-person shooter Half-Life. The gameplay consists of a team of Counter-Terrorists against a team of Terrorists in rounds of competition won either by completing an objective or completely eliminating the opposing team.
They have been the most widely played online first-person shooters for the past several years. As of August 2011, the series has sold over 25 million units since the original release of Counter-Strike.
Forum
Forum Activity
Poll
Which assault rifle do you like the most?