Ad blocker interference detected!
Wikia is a free-to-use site that makes money from advertising. We have a modified experience for viewers using ad blockers

Wikia is not accessible if you've made further modifications. Remove the custom ad blocker rule(s) and the page will load as expected.
Downed Pilot (cs_downed_cz) is an official hostage rescue map featured in Counter-Strike: Condition Zero.
The map takes place in Puerto Iguazu, Argentina. An aircraft has been shot down and the pilots have been taken hostage by the terrorists.
Official Description
Edit
Counter-Terrorists: Rescue the hostages. Take out the Terrorists without jeopardizing the hostages.
Terrorists: Prevent Counter-Terrorist force from rescuing the hostages. Use whatever force needed.
Other Notes: There are 4 hostages in the mission. Rescue them!
Development
Edit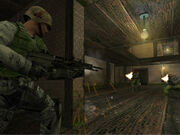 The design of the map was originally started when
Gearbox Software
was in charge of the development of
Condition Zero
. It was designed by
Nick "Crinity" Coombe
and carried the name
cs_junglecamp
.
After Ritual Entertainment took over the development of Condition Zero, the map was renamed to cs_downed and the design responsibility was passed on to Thearrel "Kiltron" McKinney. Plans were to include the map with the release of Counter-Strike (Xbox). For reasons unknown, the map was not available in the finished version of Counter-Strike (Xbox).
Despite not being included, remnants are still available on the game disc. This includes information indicating that the official factions for this map were supposed to be SEAL Team 6 and the Guerilla Warfare.
For an overview on Downed in Tour of Duty, see Downed/Tour of Duty.
The map was finally released together with Counter-Strike: Condition Zero. This modified version of the map was also used as the basis for the Downed Pilot mission in Counter-Strike: Condition Zero Deleted Scenes.
This map has been chosen to become the 14th map in Tour of Duty mode.
In the computer room where two of the hostages are kept, there are two screens that display the BBC news.
The logo Nick Coombe had present on his website is still seen in the final version of Downed Pilot.
Currently, one unofficial Counter-Strike: Global Offensive remakes can be found on the Steam Workshop:
Hostage rescue (cs)
maps
Counter-Strike
•
Counter-Strike (Xbox)
•

Counter-Strike: Condition Zero

Counter-Strike: Source
•
Counter-Strike: Global Offensive