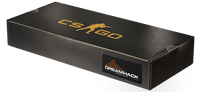 The DreamHack 2013 Souvenir Pack commemorates the 2013 DreamHack SteelSeries CS:GO Championship. It was dropped for viewers watching any match during the 2013 DreamHack tournament via GOTV or via twitch.tv with a linked steam account [1].
Souvenir packages, unlike other containers, do not require a key to open. Upon opening a souvenir package, a random drop-able skin with souvenir quality and event-only stickers will be received.
Gallery
References
Ad blocker interference detected!
Wikia is a free-to-use site that makes money from advertising. We have a modified experience for viewers using ad blockers

Wikia is not accessible if you've made further modifications. Remove the custom ad blocker rule(s) and the page will load as expected.