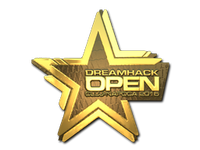 Much like previous souvenir packages, the DreamHack Cluj-Napoca 2015 Souvenir Packages are droppable packages available to viewers who watch tournament matches during the DreamHack Cluj-Napoca 2015 tournament via GOTV or via twitch.tv.
The souvenir package a viewer receives will depend on the current map being observed. When opened, a weapon skin with souvenir quality exclusive to the package's map collection will be received. The weapon skin will include a special gold foil event specific sticker as well as special gold foil stickers from both of the teams who played during the match from which the package was dropped. Additionally, a gold foil version of the round MVP's autograph sticker will be affixed to the weapon skin.
Like all stickers, the special stickers on souvenir weapons can be scraped and removed, but not re-used.
Available DreamHack Cluj-Napoca 2015 souvenir packages
Ad blocker interference detected!
Wikia is a free-to-use site that makes money from advertising. We have a modified experience for viewers using ad blockers

Wikia is not accessible if you've made further modifications. Remove the custom ad blocker rule(s) and the page will load as expected.