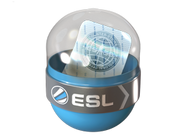 The EMS Katowice 2014 Challengers capsule contains a single EMS One Katowice 2014 participant sticker. A portion of the proceeds is shared equally among the included organizations. Unlike other Sticker Capsules, the High Grade (normal) stickers in this capsule can also be obtained in Remarkable (Holo) versions. Although not contained within the capsule, (Foil) versions of each sticker also exist only available on Souvenir weapon skins from the EMS Katowice 2014 tournament.
Like the EMS Katowice 2014 Legends capsule, this sticker capsule was a limited time direct purchase from the in-game store. The capsule can still be purchased from the Steam Market and does not require a capsule key to open.
Contents
3DMAX

iBUYPOWER

mousesports

Clan-Mystik

Natus Vincere

Reason Gaming

Virtus.Pro

Vox Eminor

3DMAX (Holo)

iBUYPOWER (Holo)

mousesports (Holo)

Clan-Mystik (Holo)

Natus Vincere (Holo)

Reason Gaming (Holo)

Virtus.Pro (Holo)

Vox Eminor (Holo)

ESL Wolf (Foil)
Ad blocker interference detected!
Wikia is a free-to-use site that makes money from advertising. We have a modified experience for viewers using ad blockers

Wikia is not accessible if you've made further modifications. Remove the custom ad blocker rule(s) and the page will load as expected.