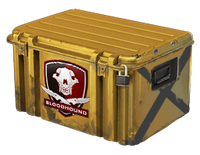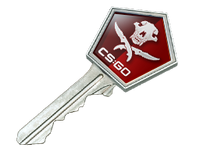 "

The Falchion is really more of a folding sword than a knife. This new Covert knife is only found in the new Falchion Weapons Case, along with 16 amazing community-created weapon finishes, exclusive to All Access Pass holders.

"


―Blog description
The Falchion Case is a weapon case released in the May 26, 2015 update, alongside with Operation Bloodhound as an exclusive drop to pass holders. After Operation Bloodhound came to a close, the case was available to drop for all players. This case also introduces the case-exclusive Falchion Knife which can be awarded at a very low chance.
Contents
Galil AR | Rocket Pop

Glock-18 | Bunsen Burner

Nova | Ranger

P90 | Elite Build

UMP-45 | Riot

USP-S | Torque

FAMAS | Neural Net

M4A4 | Evil Daimyo

MP9 | Ruby Poison Dart

Negev | Loudmouth

P2000 | Handgun

CZ75-Auto | Yellow Jacket

MP7 | Nemesis

SG 553 | Cyrex

AK-47 | Aquamarine Revenge

AWP | Hyper Beast

or an Exceedingly Rare Falchion Knife!
Trivia
The Negev Loudmouth skin shows a smiley face drawn on the bottom of the feed cover, and can be seen when reloading.
The word "Run!" is written on the front side of the magazine of Negev Loudmouth, which is not visible in first-person but visible when inspecting.
It is not possible to obtain a Factory New Negev Loudmouth.