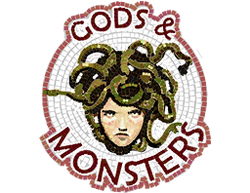 The Gods and Monsters collection is an exclusive weapon collection introduced as part of Operation Bloodhound based on themes from ancient Greek mythology.
Skins in the collection are no longer available in drops and must be either bought or traded.
Contents
MP7 | Asterion

AUG | Daedalus

Dual Berettas | Moon in Libra

Nova | Moon in Libra

Tec-9 | Hades

P2000 | Pathfinder

AWP | Sun in Leo

M249 | Shipping Forecast

UMP-45 | Minotaur's Labyrinth

MP9 | Pandora's Box

G3SG1 | Chronos

M4A1-S | Icarus Fell

M4A4 | Poseidon

AWP | Medusa
Trivia
A heavily worn Tec-9 Hades will cause skulls to be formed from the scrapings on the helmets.[1]
References
Ad blocker interference detected!
Wikia is a free-to-use site that makes money from advertising. We have a modified experience for viewers using ad blockers

Wikia is not accessible if you've made further modifications. Remove the custom ad blocker rule(s) and the page will load as expected.