The Heist Mode is a cut game mode from Counter-Strike: Global Offensive.
Overview
Reference to game mode can be found in func_bomb_target brush entity from CS GO SDK, where in bush properties description says "This is a Bomb Target designed for the Heist game mode."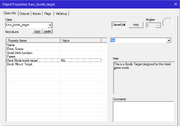 Placing bush entity on wall map's allows "plant" the bomb to wall.
On the May 31, 2016 update, was added references Convars to "slow money" it's hints towards to be related with mode:

mp_slowmoney_enabled  
mp_slowmoney_maxmultiplier  
mp_slowmoney_minmultiplier
mp_slowmoney_multiplierdisplayasbonus
mp_slowmoney_rampbias  
mp_slowmoney_rampend  
mp_slowmoney_rampstart

In the November 28, 2016 update, Adding to game files new terrorist model named tm_heavy_riot currently without textures it's possible is related to game mode.
In the May 23, 2017 update, said above model was removed from game files.
In the June 20, 2017 update, includes reference to the prop model of Money bag in "protobuffs"[1]:
"models/props/props_gameplay/money_bag.mdl"
Gallery
References
↑ Difference log, June 20, 2017 on GitHub
External Links
Game modes

Counter-Strike
Counter-Strike (Xbox)
Condition Zero
Source
Global Offensive
Other
Ad blocker interference detected!
Wikia is a free-to-use site that makes money from advertising. We have a modified experience for viewers using ad blockers

Wikia is not accessible if you've made further modifications. Remove the custom ad blocker rule(s) and the page will load as expected.