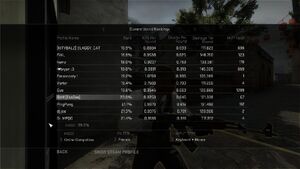 Leaderboards is an main menu feature added since beta of Counter-Strike: Global Offensive, but removed in the February 17, 2016 update.
Overview
Leaderboards includes Profile name, Rank in %, Kills per round, Deaths per round, Damage per round and Total MVP.
Player have the ability to sort leaderboards by mode, input type and filter.
Ad blocker interference detected!
Wikia is a free-to-use site that makes money from advertising. We have a modified experience for viewers using ad blockers

Wikia is not accessible if you've made further modifications. Remove the custom ad blocker rule(s) and the page will load as expected.