"

Each of our hardened operators have decided to have a little Halloween fun by wearing masks, be sure to look for masks from PAYDAY 2 and Team Fortress 2!

"


―Counter-Strike Blog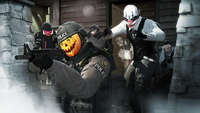 Masks is custom wearable mask by players during the special events. Masks were originally added in as part of the Halloween 2014 Update.
During Halloween, the masks are completely cosmetic, and chosen randomly at the start of the round in most modes. In competitive, the masks stay constant between rounds and correspond individually to the players.[1]
Some of the Halloween masks featured are from PAYDAY 2 and Team Fortress 2.[2] In the case of the PAYDAY 2 masks, these are default masks worn by the default characters in the game. In the case of the Team Fortress 2 masks, these are masks worn by the Spy class when the Spy is using Disguise.
The in-game appearance of Sergei and Chase Turner reuse the mask mechanic, as they appear as normal T models but wearing a skull-like battlemask.
Update History
Fixed masks drawing through smoke.
References
Ad blocker interference detected!
Wikia is a free-to-use site that makes money from advertising. We have a modified experience for viewers using ad blockers

Wikia is not accessible if you've made further modifications. Remove the custom ad blocker rule(s) and the page will load as expected.