"

Vertical combat in close quarters on a rainy night on this mountaintop Radar Station.

"


―Map Description[1]
Mist (de_mist) is a community created Bomb defusal map designed by Invalid nick and featured as part of Operation Breakout in Counter-Strike: Global Offensive.
Overview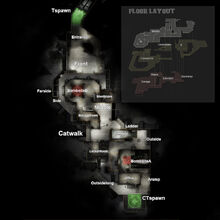 The map takes place on a mountaintop radar station on a rainy night.
Update History
Improved clipping, removed possibility to boost at various locations (where it was not intended)
Added clip in windows
Deleted bad DM-spawn (in Underpass)
Players should now properly die when jumping from the Sniper tower
Increased the width of B-site door coming from ShortStairs
Made skill-jump at Catwalk easier (still hard)
Removed pipes sticking up at Side (looked like a player head from a far)
Added possibility to jump from blue container at Stairs (avoid peeking CT from Outside when rushing Underpass)
Removed strong light at Stairs to make peeking to Outside less dangerous
Changed red-navigation decals to orange (easier to see)
Raised generator at CT-side Catwalk to allow easier movement when jumping down from middle
Removed railing/yellow poles at Front (allowing easier movement for T at the start of each round)
Slight optimization of items in the skybox
Updated hints around T-spawn/Front
Very careful removal of items in the player area
Removed unusable doors (that was placed around the level)
Removed barrel under Backway stairs (there is no way anyone could have placed it there)
Updated text on the Restricted sign (German and Finnish – Finnish soldiers are now greeted welcome)
Removed col from fence at Sniper tower
Lowered the sound intensity for rumbling rain at B-site
References