Operation Bravo
« Operation Payback
Operation Phoenix »
Release date
September 19, 2013
Completion date
February 5, 2014
Maps
Agency , Ali , Cache , Chinatown , Gwalior , Ruins , Siege , Seaside
Winter Offensive:
Cobblestone , Overpass
Weapon Case
Operation Bravo Case
Weapon Collections
Alpha
Source
Operation Bravo Page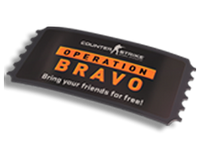 Operation Bravo was the second Counter-Strike: Global Offensive Operation, following Operation Payback. The operation was launched on September 19th, 2013, and was scheduled to last until January 20th, 2014. However, it was extended to February 5th, 2014 due to its popularity.
Overview
Operation Bravo featured a playlist of 7 new maps (and one returning from Operation Payback) from the Steam Workshop. Unlike Operation Payback, these maps were playable for casual, competitive, and Deathmatch scenarios.
A new addition to this operation included "Operation weapon finishes". There are two new weapon collections: The Alpha Collection available exclusively as individual all-map weapon drops to Bravo pass-holders, and the Bravo Collection available to everybody as part of the Bravo weapon case, also available through timed all-map drops. (Pass-buyers were able to get Bravo case drops in addition to regular drops)
The Winter Offensive Update updates the Operation with two more maps.
Maps
* Added to the operation as part of the Winter Offensive Update and later became official maps
Operation Bravo Coin
Badge Progress
Trivia
The title image for Operation Bravo shows the AK-47 Fire Serpent and Nova Tempest from the Bravo Collection within the featured Agency map.

Although the weapons displayed are from the Operation Bravo Case, the case pictured is a standard unmarked weapons case.

The title image for Winter Offensive Update shows the P250 Mehndi and the Five-SeveN Kami from the Winter Offensive collection wielded by GIGN on the featured map Overpass.
The Alpha Collection is listed as set_bravo_ii in the in-game files.
Although very rare, it is confirmed that there is a small percentage chance of Operation Bravo cases to still drop in-game.
External Links
Ad blocker interference detected!
Wikia is a free-to-use site that makes money from advertising. We have a modified experience for viewers using ad blockers

Wikia is not accessible if you've made further modifications. Remove the custom ad blocker rule(s) and the page will load as expected.