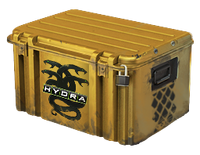 The Operation Hydra Case is a weapon case of community created weapon skins and new gloves released in the May 23, 2017 update, alongside with Operation Hydra as an exclusive drop to pass holders. It requires a Operation Hydra Case Key to be opened and cannot be opened with a standard CS:GO Case Key.
Contents
Triva
AWP Oni Taiji is likely named after the Japanese phrase 鬼退治 (おに たいじ, Oni Taiji), which means "evil spirit extermination".
Update History
Ad blocker interference detected!
Wikia is a free-to-use site that makes money from advertising. We have a modified experience for viewers using ad blockers

Wikia is not accessible if you've made further modifications. Remove the custom ad blocker rule(s) and the page will load as expected.