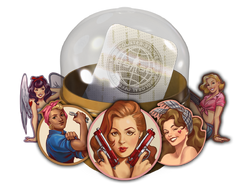 The Pinups Capsule was released as part of the 2015 Winter Update. It contains stickers created by the community artist, ninjasia, and is only available as an in-game offer.
Ivette

Kimberly

Martha

Merietta

Sherry

Tamara

Ivette (Holo)

Kimberly (Holo)

Martha (Holo)

Merietta (Holo)

Sherry (Holo)

Tamara (Holo)
The character present on the Martha stickers is derived from the character present on the We Can Do It! American wartime propaganda poster.
The Kimberly Sticker is wielding a Karambit and has a "I ❤ 1.6" Tattoo.
The Tamara Sticker is holding an AK-47.
The Marietta Sticker is wielding Dual Berattas.
Update History