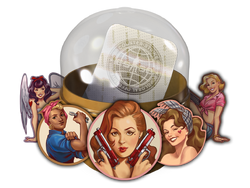 The Pinups Capsule was released as part of the 2015 Winter Update. It contains stickers created by the community artist, ninjasia, and is only available as an in-game offer.
Contents
Ivette

Kimberly

Martha

Merietta

Sherry

Tamara

Ivette (Holo)

Kimberly (Holo)

Martha (Holo)

Merietta (Holo)

Sherry (Holo)

Tamara (Holo)
Trivia
The character present on the Martha stickers is derived from the character present on the We Can Do It! American wartime propaganda poster, known as Rosie the Riveter. Wire cutters can be seen tiled in the background in the holo version of this sticker.
The Kimberly Sticker is wielding a Karambit and has a "I ❤ 1.6" Tattoo. Kimberly also has a tattoo on her forearm with what is likely a cat behind a banana. These are possible references to map callouts from Dust II and Inferno respectively. Kimberly may also be a reference to the pin-up model Bettie Page, known as the "Queen of Pinups."
The Tamara Sticker is holding an AK-47.
The Marietta Sticker is wielding Dual Berattas, which are similar in appearance to the Hemoglobin Dual Berettas found in the Arms Deal 2 collection.
Update History
Ad blocker interference detected!
Wikia is a free-to-use site that makes money from advertising. We have a modified experience for viewers using ad blockers

Wikia is not accessible if you've made further modifications. Remove the custom ad blocker rule(s) and the page will load as expected.