Ad blocker interference detected!
Wikia is a free-to-use site that makes money from advertising. We have a modified experience for viewers using ad blockers

Wikia is not accessible if you've made further modifications. Remove the custom ad blocker rule(s) and the page will load as expected.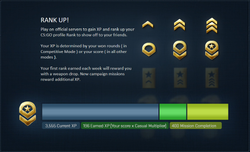 Ranks were permanently introduced in Global Offensive as part of the May 26, 2015 update as a mostly cosmetic form of upgrading a player's status by playing on official servers.
By playing on official game servers, players gain experience points towards the goal of increasing the player's profile Rank. When ranking up, the player also receives a weapon drop up to a maximum of one a week. During an active operation, the operation's pass holders are eligible to receive rewards exclusive to the operation's weapon collections. Players participating in the Overwatch program also gain additional experience.
Although a player's Rank is separate from the player's skill group, a profile rank of Private Rank 2 is required to be eligible for competitive matchmaking. However, a player's profile rank does not affect the player's ability to compete in casual game modes.
Although only 40 ranks exist, the player has the opportunity to reset his or her profile rank to start over.[1] After reaching rank 40, a Get Service Medal button will appear above the rank progress bar. Clicking the button will reset the player's rank and add the service medal to the player's inventory. Once the player receives a service medal, he or she will not have to re-rank to Private Rank 2 again to play competitive match making. Starting with the November 10, 2015 patch, the service medal can now be upgraded to level 2 by hitting rank 40 a second time. The player's rank is not reset each year, but rather the rank up will count towards that year's medal.
Multipliers
Edit
After each match is over, the game mode's multiplier will be applied to a player's rank. Excluding competitive matches, this multiplier uses the player's score. The competitive multiplier uses the player's won rounds during a match. All multipliers are applied only after the match has finished, and will be erased if the player abandons the match early. The weekly bonus multiplies the experience you earn by 3. Additionally, the multiplier is always rounded down to the nearest decimal. The maximum amount of experience points a player can earn in casual mode is 1000.
Note: These values may be changed at any time without notice.
Additionally, players receive boosted XP at the beginning of a weekly rank up which gradually decreases until the player receives a further reduced multiplier, drastically cutting the amount of XP received regardless of game mode
Approximate
gained XP
Bonus XP multiplier
less than 4500 XP
4.0 * gained XP
between 4500 XP
and 7500 XP
2.0 * gained XP
between 7500 XP and 11200 XP
1.0 * gained XP
greater than 11200 XP
0.175 * gained XP
Note: These values are approximate values based on community testing.[2]
With the introduction of Operation Wildfire, Blitz Missions were introduced which give an extra 10XP per round won.
| Image | Rank | XP required per level | Total XP accumulated |
| --- | --- | --- | --- |
| | Recruit Rank 1 | 1000 | 0 |
| | Private Rank 2 | 5,000 XP | 5,000 XP |
| | Private Rank 3 | 5,000 XP | 10,000 XP |
| | Private Rank 4 | 5,000 XP | 15,000 XP |
| | Corporal Rank 5 | 5,000 XP | 20,000 XP |
| | Corporal Rank 6 | 5,000 XP | 25,000 XP |
| | Corporal Rank 7 | 5,000 XP | 30,000 XP |
| | Corporal Rank 8 | 5,000 XP | 35,000 XP |
| | Sergeant Rank 9 | 5,000 XP | 40,000 XP |
| | Sergeant Rank 10 | 5,000 XP | 45,000 XP |
| | Sergeant Rank 11 | 5,000 XP | 50,000 XP |
| | Sergeant Rank 12 | 5,000 XP | 55,000 XP |
| | Master Sergeant Rank 13 | 5,000 XP | 60,000 XP |
| | Master Sergeant Rank 14 | 5,000 XP | 65,000 XP |
| | Master Sergeant Rank 15 | 5,000 XP | 70,000 XP |
| | Master Sergeant Rank 16 | 5,000 XP | 75,000 XP |
| | Sergeant Major Rank 17 | 5,000 XP | 80,000 XP |
| | Sergeant Major Rank 18 | 5,000 XP | 85,000 XP |
| | Sergeant Major Rank 19 | 5,000 XP | 90,000 XP |
| | Sergeant Major Rank 20 | 5,000 XP | 95,000 XP |
| | Lieutenant Rank 21 | 5,000 XP | 100,000 XP |
| | Lieutenant Rank 22 | 5,000 XP | 105,000 XP |
| | Lieutenant Rank 23 | 5,000 XP | 110,000 XP |
| | Lieutenant Rank 24 | 5,000 XP | 115,000 XP |
| | Captain Rank 25 | 5,000 XP | 120,000 XP |
| | Captain Rank 26 | 5,000 XP | 125,000 XP |
| | Captain Rank 27 | 5,000 XP | 130,000 XP |
| | Captain Rank 28 | 5,000 XP | 135,000 XP |
| | Major Rank 29 | 5,000 XP | 140,000 XP |
| | Major Rank 30 | 5,000 XP | 145,000 XP |
| | Major Rank 31 | 5,000 XP | 150,000 XP |
| | Major Rank 32 | 5,000 XP | 155,000 XP |
| | Colonel Rank 33 | 5,000 XP | 160,000 XP |
| | Colonel Rank 34 | 5,000 XP | 165,000 XP |
| | Colonel Rank 35 | 5,000 XP | 170,000 XP |
| | Brigadier General Rank 36 | 5,000 XP | 175,000 XP |
| | Major General Rank 37 | 5,000 XP | 180,000 XP |
| | Lieutenant General Rank 38 | 5,000 XP | 185,000 XP |
| | General Rank 39 | 5,000 XP | 190,000 XP |
| | Global General Rank 40 | | 195,000 XP |
Service Medal
Edit
External Links
Edit
References
↑ Overwatch Out of Beta on the Official Counter-Strike blog
↑ How to upgrade your Profile Rank: steam guide by 3st on Steamcommunity.com
↑ All service medals + Inspect [2015-2016] steam guide by AmitKilo and Chopper on Steamcommunity.com