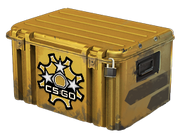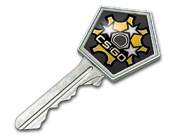 The Revolver Case is a weapon case consisting of community created weapon skins released as part of the 2015 Winter Update. The Revolver Case was the first case to contain skins for the R8 Revolver, as it was released in the same update.
Contents
Trivia
The Revolver Case was the first community weapon case to contain non-community created skins (excluding knives), as it contained two Valve created R8 Revolver skins.
On G3SG1 The Executioner, a short phrase is scratched into the stock, saying "NaCl? Get some here". NaCl is the chemical formula of table salt, referencing the internet slang of "salty", referring to the common view of the G3SG1 as an "overpowered noob weapon".
Update History
Ad blocker interference detected!
Wikia is a free-to-use site that makes money from advertising. We have a modified experience for viewers using ad blockers

Wikia is not accessible if you've made further modifications. Remove the custom ad blocker rule(s) and the page will load as expected.