"

An open layout provides a mix of long-range and close quarters combat with dangerous chokepoints and quick rotations. Welcome to the jungle.

"


―Map slogan

Rush (cs_rush) is a community created hostage rescue map designed by Invalid Nick and featured as part of Operation Breakout in Counter-Strike: Global Offensive.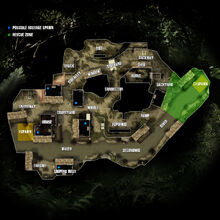 Trivia
On the official page of Operation Breakout. Rush is mistaken as a bomb defusal map, as evidenced by the C4 logo below the picture.
Update History
Fixed graphical glitch with water when shader detail is set to medium or low
Various balance tweaks, optimizations and bug fixes
Ad blocker interference detected!
Wikia is a free-to-use site that makes money from advertising. We have a modified experience for viewers using ad blockers

Wikia is not accessible if you've made further modifications. Remove the custom ad blocker rule(s) and the page will load as expected.