Not to be confused with Castle, a Community created Counter-Strike: Global Offensive map.
Russell Meakim is a level designer in Counter-Strike: Condition Zero.
Levels designed
Trivia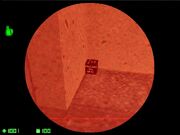 Excluding Rise Hard, levels designed by THE CASTLE are all snow-themed.
All missions made by him will have a small Easter egg box that reads "The Castle Was HERE".
Ad blocker interference detected!
Wikia is a free-to-use site that makes money from advertising. We have a modified experience for viewers using ad blockers

Wikia is not accessible if you've made further modifications. Remove the custom ad blocker rule(s) and the page will load as expected.