Not to be confused with Castle, a Community created Counter-Strike: Global Offensive map.
Russell Meakim is a level designer in Counter-Strike: Condition Zero.
Levels designed
Edit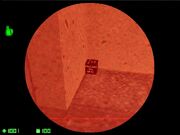 Excluding Rise Hard, levels designed by THE CASTLE are all snow-themed.
All missions made by him will have a small Easter egg box that reads "The Castle Was HERE".