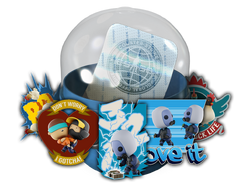 The Slid3 Capsule was released as part of the 2015 Winter Update. It contains stickers created by the community artist, Slid3, and is only available as an in-game offer.
Contents
Boom

Countdown

Don't Worry

Hard Cluck Life

Move It

Boom (Holo)

Coutdown (Holo)

Don't Worry (Holo)

Hard Cluck Life (Holo)

Move It (Holo)

Boom (Foil)

Countdown (Foil)

Don't Worry (Foil)

Hard Cluck Life (Foil)

Move It (Foil)
Update History
Ad blocker interference detected!
Wikia is a free-to-use site that makes money from advertising. We have a modified experience for viewers using ad blockers

Wikia is not accessible if you've made further modifications. Remove the custom ad blocker rule(s) and the page will load as expected.