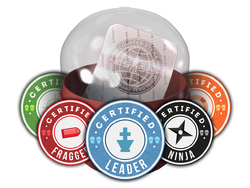 The Team Roles Capsule was released as part of the 2015 Winter Update. It contains stickers created by the community artist, ThePolymath, and is only available as an in-game offer.
Contents
The Awper

The Baiter

The Bomber

The Bot

The Fragger

The Leader

The Lurker

The 'Nader

The Ninja

Support

The Pro(Foil)
Trivia
Although the in-game files include foil versions of several of the stickers, only The Pro is available in foil quality in the sticker capsule.
Update History
Ad blocker interference detected!
Wikia is a free-to-use site that makes money from advertising. We have a modified experience for viewers using ad blockers

Wikia is not accessible if you've made further modifications. Remove the custom ad blocker rule(s) and the page will load as expected.