Ad blocker interference detected!
Wikia is a free-to-use site that makes money from advertising. We have a modified experience for viewers using ad blockers

Wikia is not accessible if you've made further modifications. Remove the custom ad blocker rule(s) and the page will load as expected.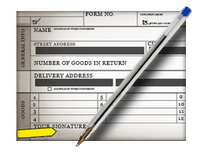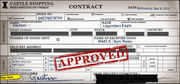 "

In exchange for 10 items of identical quality, you will receive a single item of a quality one higher, from a collection of one of the items you provided.

"


―Official description
The Trade Up Contract, formerly known as the Arms Deal Contract, is a base grade tool available to all players after purchasing the game to generate new weapon skins.
The trade up contract allows players to trade 10 normal or 10 StatTrak™ weapon skins of the same weapon grade from any collection for 1 new weapon skin of the next highest grade tier chosen randomly from one of the collections used. The process is confirmed and cannot be reverted after the signature has been signed.
With the Operation Bravo update, the Arms Deal Contract was renamed to Trade Up Contract and was expanded to allow weapons from any collection. Mixing weapons from different collections is also allowed, provided the skins used for the input are at the same tier. The resulting weapon skin will be randomly chosen from one of the input collections. The exact ratio used when mixing collections is not known, but it is assumed to be directly correlated to the amount input. For example, the more of a single collection used as input, the more likely the outcome will be from the same collection.
Possible Weapon Grade Outcomes
Edit
Light blue (Uncommon) - Industrial

Darker blue (Rare) - Mil-Spec

Purple (Mythical) - Restricted

Pink (Legendary) - Classified

Red (Ancient) - Covert
Knives are not a possible outcome when using the Trade Up Contract.
Weapon Skin Condition Outcome
Edit
Although it is believed the condition of the resulting skin is completely random, small sample-size community testing has shown the likelihood of a correlation from the input skins' conditions to the resulting output skin's condition.[1]
Unusable Weapons
Edit
Not all weapons are eligible for the trade up contract. As of the May 28, 2014 update, a context menu was added to the inventory screen which directly opens the skin in the Trade Up Contract. Unusable weapons will not have this context item. Despite common belief, you cannot trade 10 Red (Ancient) Covert weapons skins for knives. Although normal or StatTrak™ weapon skins can be used in the contract, they cannot be mixed together.
Weapons excluded from being used in the Trade Up Contract include:
Souvenir weapon skins
Red (Ancient) Covert weapon skins
Light Brown (Immortal) Contraband (discontinued) weapon skins
Skins from one grade of a collection without having a next highest grade skin available (this includes mixing collections)
The process is called "crafting" in game files and by members of the community.
The formula for determining the float value of the output skin's exterior quality is defined as: Float = (maximum float value of output skin - minimum float value of output skin) * average float value of input skins + minimum float value of output skin
Update History
References