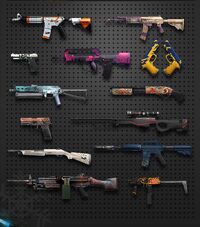 The Winter Offensive Weapon Case is a weapon case containing community created skins. It was released as part of the December 18, 2013 update and requires a Winter Offensive Case Key to open.
Since the release of Operation Vanguard, this crate is very rarely dropped. It can also be bought in the Steam Market.
Contents
Trivia
This case is the first case to feature community-made finishes.
Ad blocker interference detected!
Wikia is a free-to-use site that makes money from advertising. We have a modified experience for viewers using ad blockers

Wikia is not accessible if you've made further modifications. Remove the custom ad blocker rule(s) and the page will load as expected.